The ruckus attracted national news attention, with observers from afar expressing bewilderment that grown adults would engage in a clash of culture over differences in how various kinds of funhogs like to play. It was, in a way, a foreshadowing of turf battles to come. 
Back then, Hedden observed, "The partners share information and work together to assure that individual decisions make collective sense for the land and the community."
Now he knows it was wishful thinking. The harmonious concert of both of those objectives has not been achieved, he concedes, and the once-sanguine promise of achieving an outdoor recreation Shangri-la, in tune with nature, has faded. In many ways, recreation tourism has pushed past a point of no return, even as managers try to impose limits or make corrections after the fact. Arches National Park, from April to October, now requires visitors to have a special timed-entry pass. In Zion, motorists are allowed to enter until parking spaces fill up and there's a shuttle service that ferries visitors along Zion Canyon Scenic Drive. 
Meanwhile, on nearby BLM lands, the past few decades have been a revealer of hard truths with how outdoor recreation, as with any consumptive industry, has become a constant, relentless drive as numbers swell to access more resources—in this case land itself. The problem isn't just one use, Hedden says, but all of them combined.
When topics like recreation and conservation are considered, how do the two of them mesh? How does the former enhance or harm prospects for the other? In the ledger sheet of assessing the benefits of an outdoor recreation economy set amidst public lands, unmarred scenery and distinct ecosystems supporting an array of species, how are gains and losses calculated?  Hedden, who lived in Castle Valley for 50 years until recently, says it's a topic many do not want to discuss but it needs to be front and center. 
As one who holds longtime adoration for the Greater Yellowstone Ecosystem to the north, he says Moab ought to indeed serve as a case study but one not to emulate.
With the Biden Administration's ambitious 30 X 30 proposal that calls for public lands to be cornerstones for saving biological diversity by protecting still-healthy natural environments so that they are more resilient in the face of climate change, how does outdoor recreation fit in? If the goal is achieving ecological resiliency, i.e. the kind of environments that can better withstand climate effects exacerbated by the impacts of humans— how, exactly, is the proliferation of outdoor recreation contributing to meeting the objective?
This spring, the Canyon County Commission sent a letter to President Biden and Interior Secretary Deb Haaland saying it endorsed his 30 X 30 initiative that is part of his administration's overarching America the Beautiful agenda. "Oftentimes when we're talking about preserving land or public lands, our economy is so dependent on recreation that that's what we focus on," Commissioner Sarah Stock told a reporter
with the Moab Sun News
. "But this initiative is acknowledging the inherent value of a functioning ecology and how important that is to our future as humans on this planet." 
Notably, the state of Utah does not support 30 X 30.
° ° ° °
Half his life after the first flare up between motorized and "human-powered" recreationists, Hedden admits that the optimistic prospect of consensus and collaboration, carried out by government agencies and user stakeholder groups, didn't go quite as planned—for Moab and for public lands. Valiant declarations that "balance" would be achieved between satiating the desires of recreationists to have play areas and, on the other hand, protecting sensitive wildlife and sublime scenery, have failed to deliver. What's already been lost is difficult to measure. The premise has always been that having more recreationists using more public land and enjoying more access, benefits the cause of biodiversity, but does it?
This is a question being asked in many places across the American West where wildlife, because of various kinds of human population pressure, often is being pressed to exist on thinner margins of habitat and human tolerance. But nowhere, arguably, does it have more implications than in Greater Yellowstone, which still has all of its original native large mammal species—many that are expected to have a difficult time persisting as it is with the effects of climate change alone.
Does protecting wildlife matter or is it merely an acceptable collateral casualty of outdoor recreation's success?
The Southern Utah Wilderness Alliance says southern Utah "is the poster child for unsustainable growth in outdoor recreation."  In 2021, the Alliance enlisted scientists affiliated with the Recreation Ecology Lab at Utah State University to review studies documenting resource impacts and ponder recreation trends in a paper titled "
Outdoor Recreation and Ecological Disturbance.
" The conclusion is that public land management of recreation, as it has traditionally been structured, needs to change amid growing use levels if the region's ecological integrity has any chance of being protected.
Separately, a recent peer-reviewed article in the science journal Bio One examining the impacts of recreation pressure on sensitive desert bighorn sheep is a single telling reference point yet it can be extrapolated to other species. "Human activity in wildlands can influence wildlife populations by decreasing or degrading habitat, decreasing survival, or through displacement," authors of the study wrote. "For bighorn sheep, some human activities are detrimental and may result in physiological stress, altered activity budgets, or habitat abandonment. From 1979 to 2000, human recreation increased over 300 percent in areas occupied by desert bighorn sheep in south-eastern Utah. Concurrently, the population of desert bighorn sheep occupying the Potash Bighorn Sheep Management Unit of south-eastern Utah was in steep decline."
Yes, bighorn numbers have fallen even inside a special protected area that was designated to buffer them from impacts. As for Hedden, who has impeccable credentials as a big picture thinker when it comes to conservation, the faith he placed in the promise of consensus and collaboration has been dashed. Why? Because consensus and collaboration more often than not focuses on prioritizing human desires, wants and ambitions which have already won-out across most of the Lower 48. Wildlands are the last refuge and the outdoor recreation industry, like the 19th century promotors of Manifest Destiny, see "unexploited" places as a frontier to hurriedly conquest.
 Consensus and collaboration more often than not focuses on prioritizing human desires, wants and ambitions which have already won-out across most of the Lower 48. Wildlands are the last refuge and the outdoor recreation industry, like the 19th century promotors of Manifest Destiny, see "unexploited" places as a frontier to hurriedly conquest.
In a
recent profile penned about Hedden
that appeared in 
Harvard Magazine
(his alma mater) after he retired from serving as executive and conservation director at the Grand Canyon Trust for decades, the story alludes to the changes he's witnessed. He offered the following assessment a couple of years
 before
 a tidal wave of Covid-related crowds descended on Western public lands. 
"The Moab area is overridden with car traffic and people, including local residents, [Hedden] says, who 'tear up and down the high desert hills and canyons in off-road vehicles, or mountain bike all over, zoom around on the river in motorboats and jet skis.' Surrounding towns don't want to become another Moab, he says, yet when he asks, 'Is there one activity you are willing to forbid, so that won't happen?' they look at me blankly. They don't even comprehend what I'm asking them. They're like, 'Hey, this is a free country, people can do what they want.' And I say, 'Yes, that's what's happening in Moab.' Even the animals can't find refuge. 'Hunters are going into the back country with four-wheelers and shooting deer,' he says. 'There's no 'back of beyond' anymore because we have so many ways of getting there.'"
Surrounding towns don't want to become another Moab, Hedden says, yet when he asks, "Is there one activity you are willing to forbid, so that won't happen?' they look at me blankly. They don't even comprehend what I'm asking them. They're like, 'Hey, this is a free country, people can do what they want.'  And I say, 'Yes, that's what's happening in Moab.' Even the animals can't find refuge. 'Hunters are going into the back country with four-wheelers and shooting deer,' he says. 'There's no 'back of beyond' anymore because we have so many ways of getting there.'"
The BLM is a stalwart promotor of "multiple use" management—a concept promulgated in a far less ecologically-minded time and when there were far less people. Outdoor recreation is approached with the multiple use mindset that if land isn't being used by humans, then it is being wasted. The US Forest Service has its own version of multiple use.
To use Hedden's cautionary analogy, the "great white shark" of outdoor recreation, which wields more political influence than ever before in Washington DC, continues to demonstrate an almost insatiable appetite for seeking more terrain, enabling commercial outfitters to monetize more experiences, improve and
expand trails,
and promoting the philosophy that "recreation equals conservation." 
The mythical "back of beyond," a phrase Hedden applied to formerly remote and ever rarer wildlands, is, every day, winnowing because there are so many people and better machines that make getting there easier. One of the latest inventions, e-bikes, which represent a kind of hybrid between mountain biking and motor craft, are being adopted by growing numbers of older, less physically-hardy recreationists.
E-bike advocates and their manufacturers have pressed for more access to the backcountry and pushed hard for public land agencies to allow them to use mountain bike and motorized trails. If they prevail, it is likely to result in more parts of the backcountry coming to closely resemble more heavily impacted areas of frontcounty, Hedden and others believe.  The Forest Service in late March announced that, going forward, it
will allow local forest supervisors and district rangers
to decide if e-bikes will be allowed on mountain biking and other trails. On many national forests, forest supervisors have gained a notorious reputation for capitulating to pressure brought by local recreationists demanding more access.
° ° ° °
Today, there are tourism/recreation promotors in the Greater Yellowstone Ecosystem, in places like Big Sky and Bozeman, Montana, Jackson Hole, Wyoming and Teton Valley, Idaho who blithely see nothing wrong with going angling for a little Moab-style outdoor recreation. Offices of Outdoor Recreation in those three states are bullish on the prospect and even with large crowds, government and non-government tourism officials continue to use tax monies to promote the region.
Seldom acknowledged by those who tout Moab is that Greater Yellowstone still has a caliber of large mammalian wildlife diversity Moab never had and never will. Scientists warn that it doesn't take the intense levels of recreation like that occurring in Moab to have a serious impact on wildlife in Greater Yellowstone.
Just as outdoor recreation itself is not a monolith, New West outdoor recreation economies are multi-dimensional. They are intricately interwoven with development interests. In mountain regions up and down the Rockies, there is no separation between the engines of the "outdoor recreation" industry, the "tourism industry," the "real estate/construction industry," and the "hospitality industry." Like four legs holding up a stool, they are continuously re-enforcing in the cumulative effects they bring to the mosaic of public and private land. And far from ephemeral, many of them are permanent. 
For politicians, any talk of limiting visitation to Yellowstone and
Grand Teton
national parks and Forest Service and BLM lands is treated instantly as heresy. The response of elected officials echoes of what their predecessors said— in 1980, when Yellowstone notched just over two million visits for the first time in its history and rumblings were alive then of it "being loved to death"; and 1992 when the park surpassed the three million mark; and in 2021 when an astonishing 4.86 million visits were reached (a mix of locals and destination tourists).  
A poignant statistic to consider is that between 1904, when 13,727 annual visits were made to Yellowstone and today, some 195,958,486 million visits have been notched in America's oldest national park through 2021. That total number took 117 years to reach, but more than half of it was accumulated just since 1990.  Soaring visitation to national parks creates ripples in adjacent public lands and communities.
Between 1904, when 13,727 annual visits were made to Yellowstone and today, some 195,958,486 million visits have been notched in America's oldest national park through 2021. That total number took 117 years to reach, but more than half of it was accumulated just since 1990. Soaring visitation to national parks creates ripples in adjacent public lands and communities.
Today, front-country campsites and parking lots at trailheads are overflowing in many of Greater Yellowstone's national forests located within an hour's drive of Bozeman and Jackson Hole. Levels of river traffic recreationists that take many forms have never been higher. Like the tension in Moab between motorized recreationists and non, there's animosity between fishing outfitters and non-commercial anglers on the Upper Madison River, for example, about use levels.
On the minds of many who have watched the region change, the question is not only how much more crowded can places become, but should the objective of public land managers be to promote expanded use of areas that bureaucrats classify as "underutilized" until they become crowded? Wilderness and wilderness-caliber lands are forever being eyed for more use under the false claim that they "lock people out."  But viewed another way, they are among the only places left where multiple use extraction and recreation have not invaded and that's why wildlife still benefits from secure habitat.
Ryan Zinke, during his recent short tenure as Interior Secretary, standing at the front gate of Yellowstone. Zinke believes limiting visitor numbers to Yellowstone is anathema. Instead, he wants to continue further turbo-charging recreation tourism by expanding the size of facilities, building more trails and infrastructure to accommodate more people not only in parks but on all public lands. Today, Zinke's desire to intensively enlarge the footprint of outdoor recreation is shared by the Biden Administration, members of the outdoor recreation industry he was previously at odds with and even conservation organizations. Photo courtesy NPS
Ryan Zinke, Donald Trump' former Interior Secretary from Montana who now is running to win a Congressional seat,
made his opinion clear about where he stands
in a newspaper guest column that appeared in the
Bozeman Daily Chronicle
in April 2022. Referring directly to Yellowstone, he wrote: "Our parks are seeing record visitation year after year, and recent crowding has created challenges. To preserve our parks, the answer 
is not restricting access
. Instead, D.C. should make investments in infrastructure and better management practices to include…integration of federal and state trail systems to expand public access."
Zinke asserts the answer to crowding and resource impacts is not regulating visitor numbers because, for him, it runs counter to the American way of promoting freedom and liberty on public lands that seem boundless. Repeating the philosophy he advanced while at Interior (which oversees the National Park Service, Bureau of Land Management and Fish and Wildlife Service refuges), Zinke says the answer is this: expanding facilities to handle more people, growing the network of recreation trails across public lands, building more points of access including trailheads and parking lots, and, basically, approaching crowding as an engineering challenge.
Finding ways to pack in more users, his message suggests, is better than talking about limits, which to him—and he provides no evidence in claiming this— is part of a plot advanced "by radicals" to "stop the public from enjoying their lands." Zinke doesn't believe controlling the volume of recreation is necessary to protect wildlife, the visitor experience or the caliber of solitude Montanans and other Westerners for generations have savored.
"Our parks are seeing record visitation year after year, and recent crowding has created challenges. To preserve our parks, the answer is not restricting access. Instead, D.C. should make investments in infrastructure and better management practices to include…integration of federal and state trail systems to expand public access."  —Former Interior Secretary and Congressional candidate Ryan Zinke
While acknowledging that "long lines, no parking and crowded trails have become the norm" in parks and other public lands, he casts aspersions at any mention of "rationing" resources. "Instead of shutting down public access under the guise of protecting resources, we must continue strategic investments in park infrastructure," he says.
Zinke the politician doesn't say what kind of infrastructure is necessary to sustain current annual overflowing visitation to Yellowstone—nor when it tops five million, or six, seven, or eight million. He doesn't reference what the cumulative impact will be of expanded development in gateway towns, including football stadium-sized parking lots that would be needed to accommodate motorists who park their cars outside the park and then jump on public transportation. He doesn't say what the larger human footprint will mean for, say, wildlife migration corridors that allow animals to move in and out of the park around Gardiner, Montana. He doesn't clarify how expanded infrastructure will yield better environmental protection, or how more recreationists using rivers, front- and backcountry will yield better conservation, or explain how growing the recreation economy will benefit wildlife at a time when species are facing more landscape fragmentation on private land, more recreation pressure on public land, and effects from climate change.
Zinke probably would disagree with Hedden's assessment that landing a few more great white sharks of industrial strength tourism is a bad thing. Indecipherable in his rhetoric is any clearly-defined notion of what the amorphous buzzwords of "sustainability" or "balance" or "listening to stakeholders"  means within the context of preserving Greater Yellowstone's free-ranging wildlife and nature of place. If anything, he appears to subscribe to the paradox that better conservation outcomes will come from more intense human use. 
To further that end, he is an advocate for securing a lot more federal funding to expand construction of tourism/recreation infrastructure—and that's incredibly worrisome to wildlife scientists. It's parallel to what Zinke did at Interior when he pushed to open more of the West to oil and gas development and mining on public land, enabling managers with the BLM to invoke categorical exclusions allowing their decisions to be exempt from the public scrutinizing cumulative environmental effects. In a speech he delivered before the National Petroleum Council in 2017, Zinke as Interior Secretary claimed 30 percent of the 70,000 employees who worked at Interior—and who did not agree with him—were "not loyal to the flag." 
Regarding outdoor recreation and dismissing claims that large numbers of users can lead to places being loved to death, Zinke wrote in the Bozeman newspaper in April 2022, "Going forward, policymakers in D.C. must protect our parks as well as our public access in order to ensure the experience that future generations deserve. But that can only happen with proper management rather than neglect or radical policies that rely on limiting public access." 
Zinke then referenced the mantle of Theodore Roosevelt, the same as he did at Interior when he promoted policies that undermined the conservation ethos Roosevelt had championed as president. "As your congressman, I have and always will subscribe to Roosevelt's American Conservation Ethic," Zinke wrote. "Anything less is just wishful thinking and puts at risk Montana's special wild places, watersheds, and our way of life."
During his abbreviated tenure heading the Trump Administration's Interior Department, Zinke and environmentalists, including facets of the human-powered outdoor recreation industry, often clashed over his push for expanding traditional resource extraction on public lands into areas where people play. Yet pertaining to the goal of markedly expanding outdoor recreation access and opportunity, the aspirations of Zinke and his former environmental foes now, at least rhetorically, as we shall see, are in alignment. 
What are the impacts to species dwelling in public lands? In hundreds of press releases that have been pored over, issued by a wide array of conservation and recreation organizations, reflection on that question is almost never mentioned. More on that in the next part of this series.
° ° ° °
Outdoor recreation is, by any measuring stick, an unprecedented juggernaut sliding across the public landscape. Economic numbers the industry puts up are huge. It is bigger than the mining industry and auto industry. Most resource extraction industries adhere to a business model of continuous expansion until targeted monetizable resources are exhausted. In this case, the monetizable resources are not only lands but people—as consumers of stuff.
The fortunes of the outdoor recreation industry are not tied just to public land venues where users of commercial products and services can play, but there is also a parallel supportive infrastructure in public land gateway communities. Part of the juggernaut—that associated grid—brings its own set of positive and negative impacts and the effects often, as Hedden noted in Moab, become physically and politically nearly unstoppable or fixable. More people, per the Zinke model, begets more demands for expanded infrastructure and more economic dependence. Lost in the frenzied cycle is any serious reflection on consequences for wildlife and the spirit of a natural place. 
Waterways, for example, once regarded as sacred, are treated as "working rivers" but instead of floating logs they have flotillas of people.  In the manic ramp-up of outdoor recreation economies, the hunger for more can take on the look and manic feel of Old West boomtowns. And here is perhaps the profoundest irony that strikes at the heart of the recreation equals conservation trope: things like environmental laws, top shelf protected land statuses, voices of caution and even wildlife are treated as nuisances—impediments to more prosperity.
Indeed, recently in the Greater Yellowstone Ecosystem, some members and supporters of old-guard conservation organizations who have become vocal promotors of outdoor recreation have characterized wildlife conservationists in print as being extremists and radicals.
° ° ° °
Again, the economic might of outdoor recreation is undeniable, just as the cutting of forests has been for logging towns and the extraction of coal for places like Gillette, Wyoming, the coal-fired power generating town of Coltsrip, Montana and countless communities in Appalachia. 
For years, conservation organizations who battled those industries touted outdoor recreation as a way to diversify economies so that they weren't so dependent on extraction. But today, one could argue that recreation economies (which use public lands as playgrounds and draws for attracting more business) have created their own kind of dependence.
Politicians, gear and clothing manufacturers, outdoor retailers, state tourism offices, outfitters, guides, lobbyists in Congress and conservation organizations cite the stats. Generating in 2020 almost $700 billion annually in consumer spending, outdoor recreation is the foundation for 4.3 million jobs, according to the Bureau of Economic Analysis and the Boulder, Colorado-based Outdoor Industry Association. The latter noted that the 2020 figures are actually low because they were calculated in a year of Covid-related restrictions.  See the graphic below that it circulated.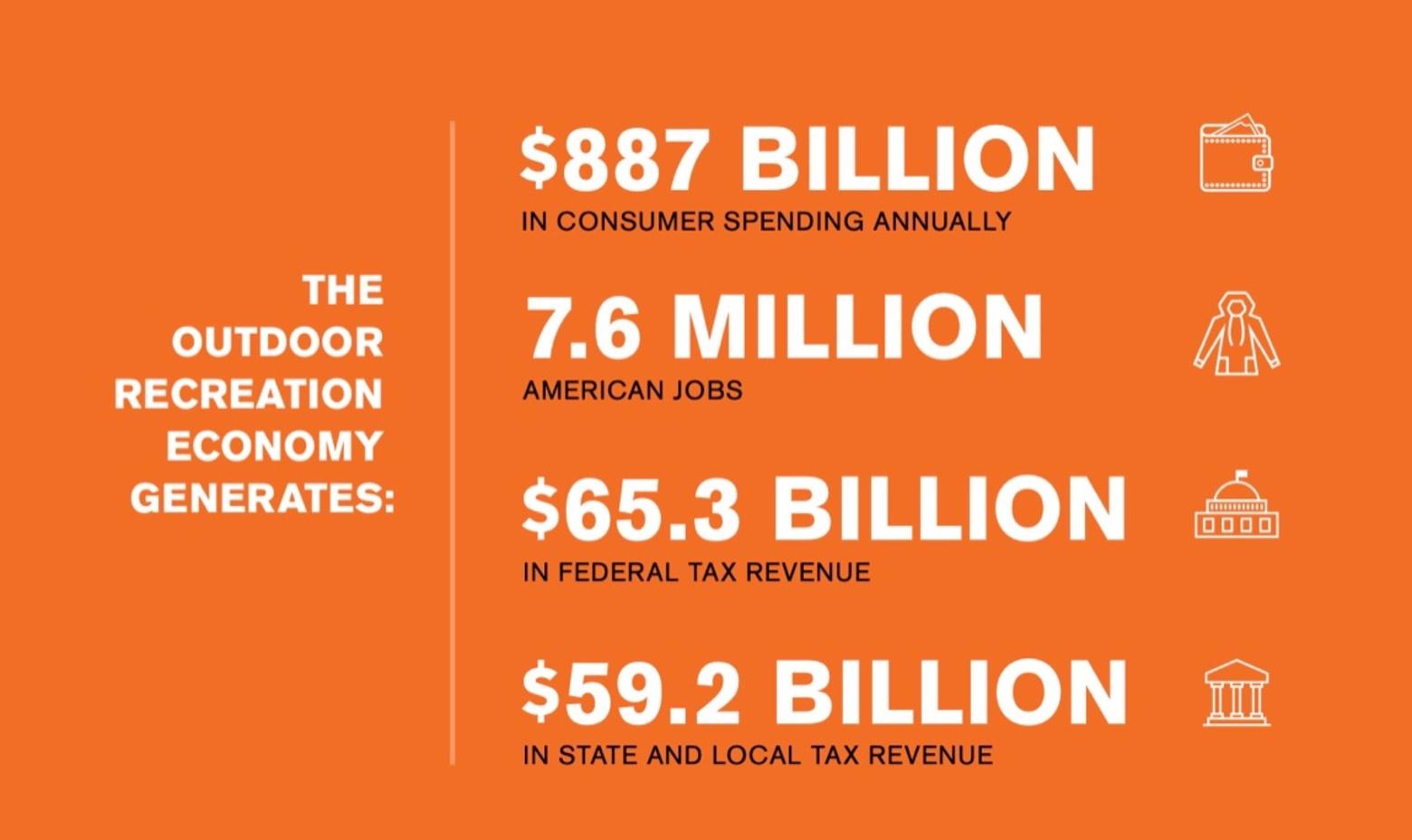 Outdoor recreation accounts for over two percent of America's gross domestic product. What puts it in a separate category, promotors say, is that this economic engine is fueled by citizens spending money while engaged in leisure activities they enjoy, which make them healthier, enables them to commune with nature and use public lands that belong to them. 
The Outdoor Industry Association asserts that a strong link between recreation and conservation and it holds greatest traction in noting that recreationists generally do not like getting out into forested clearcuts and boating on streams sullied by mining tailings. "The outdoor recreation economy depends on abundant, safe, and welcoming public lands and waters," the Outdoor Industry Association notes. "The health of individuals, communities, and our economy is tied to opportunities for everyone to experience the benefits of parks, trails, and open spaces."
Outdoor recreation has breathed new economic life into former timber and mining towns that were struggling. Ski resort towns in Colorado, from Crested Butte to Telluride, are evidence. Such places have been magnets for urban folk wanting to get out of cities to live permanently or as locations for their condo or trophy home getaways. [For more on that read Justin Farrell's
Billionaire Wilderness
].
Outdoor recreation also has given even conservative red states a lucrative stepping stone for pivoting away from resource extraction and the whiplash of boom and bust economic cycles.
Recreation tourism fills motel rooms and makes cash registers ring in restaurants, helps outfitters and guides send their kids to college, enables outdoor retail gear shops to thrive, and generates tax dollars. 
Trails have been shown to enhance property values in nearby neighborhoods. People who commute to work on bicycles, rather than cars, aren't generating carbon emissions or contributing to auto traffic and smog. No one disputes these impressive attributes.
° ° ° °
One of the most influential entiies in identifying and touting the New West narrative—the shift from traditional resource extraction to outdoor recreation—has been Bozeman, Montana-based Headwaters Economics. A Headwaters' analysis that attracted attention in Congress revealed that people who live in communities situated next to inspiring protected public lands have higher per capita incomes. 
Headwaters' data and the work of its founders, Ray Rasker and Ben Alexander, figured at the center of a cover story I wrote on the West's "green business economy" for the weekly magazine of
The Christian Science Monitor.
My story opened with Montana Gov. Greg Gianforte who was then the CEO and founder of Bozeman-based
Right Now Technology sold to Oracle
for about $1.5 billion in 2011. The sale instantly made Mr. Gianforte, who went on to be a Congressman from Montana, and his good friend, Right Now colleague and current US Sen. Steve Daines of Montana, among the richest elected officials on Capitol Hill. 
Gianforte told me how Bozeman's proximity to public lands with excellent outdoor recreation, hunting and fishing opportunities was a major catalyst in luring talented people to move to Montana and work for his company. Ironically, the appeal of the very public lands that have helped turn Bozeman into the one of the fastest-growing micropolitan cities in America have created growth issues that now threaten the health of wildlife that drew them there. 
.
Headwaters Economics is renowned for crunching data and diving insights from government census information to statistics generated by a range of government and private entities. In 2012, Headwaters stated that "on average, western non-metro counties have a per capita income that is $436 higher for every 10,000 acres of protected federal lands within their boundaries. Non-metro counties in the West with protected federal lands have higher per-capita incomes than counties without any protected lands. For example, a non-metro western county with
100,000 acres of protected public lands
has on average a per capita income that is $4,360 higher than a county with no protected public lands."  Not only that, those counties and the towns in them grew faster than counterparts without public lands nearby.
In particular, many rural non-metro Western counties have better economic performance if they have protected lands such as national parks, federal wilderness in national forests and BLM lands, national conservation areas (overseen by the BLM), national monuments (overseen by the BLM), and national wildlife refuges administered by the US Fish and Wildlife Service), Headwaters noted.
What Headwaters did not precisely define, however, was what "protected public lands" means beyond the bureaucratic classification. All protected lands are not managed equally or with the same goals and outcomes in mind because they involve different agencies. Protected, as in not developed like private lands? Protected, as in grass protected on public land to feed domestic livestock allowed to be there by government lease and which are protected against pubic wildlife that prey on them? Protected, as in not allowing major hardrock mines and logging yet open for recreation? Or protected, as in lands that exist with the priority to support healthy and stable populations of native wildlife? "Protected" can have a lot of different connotations, particularly when it involves agencies like the Forest Service and BLM operating with "multiple use" missions where there are prevailing uses and subordinated ones. 
Non-metro counties in the West with protected federal lands have higher per-capita incomes than counties without any protected lands. For example, a non-metro western county with 100,000 acres of protected public lands has on average a per capita income that is $4,360 higher than a county with no protected public lands. What Headwaters did not precisely define, however, was what "protected public lands" means.
There is no landscape in the world where large wild mammal populations, of the kind currently present in Greater Yellowstone, have not suffered amid industrial strength activities, be it extracting commodity raw materials from the earth or recreation with lots of people coursing through them. More on that in the next part of this series.
Headwaters' research presciently anticipated the rising popularity of New West outdoor-lifestyle-oriented mountain towns, and it hailed and correctly ascertained the phenomenon of how such towns, amid Covid, could become for attracting New Economy entrepreneurs who can live anywhere—including remote places—and do business around the world. That trend is now de rigueur, igniting a new boom of development in places like Bozeman.  Alongside it, a crisis of affordable housing and crush of recreationists on public lands and rivers . More on that later, too.  
° ° ° °
In poll after poll assessing public opinion, Westerners have expressed their love for public lands and such support has forced politicians like Ryan Zinke to swear he will not join fellow Republicans who have called for turning over federal lands to states or selling off tracts to the highest private bidders. Politicians keenly understand the role of public lands in propelling local economies. 
The social value of public lands is only growing. The US Fish and Wildlife Service every five years releases its benchmark National Survey of Fishing, Hunting, and Wildlife-Associated Recreation. The good news is that, overall, the interest Americans have with interacting with nature is surging, in all parts of the landscape. "In 2016, more than 103 million Americans—a staggering 40 percent of the U.S. population 16 years and older—participated in some form of fishing, hunting, or other wildlife- associated recreation such as bird- watching or outdoor photography," the report states. "And in doing so, we spent an estimated $156.9 billion on equipment, travel, licenses, and fees. These expenditures represent almost 1 percent of the nation's Gross Domestic Product— creating and supporting thousands of jobs and communities across the nation."  
The survey refers to this demographic as "wildlife recreationists" and it conceptualizes it in two ways—consumptive, as in hunting and fishing which involves killing individual animals, and non-consumptive, which involves observing wildlife and/or heading to areas because the presence of wildlife makes it more enjoyable to be there. 
The report confirms a continued trend that has been noticed for decades: the number of hunters overall continues to decline, and older hunters are not being replaced in sufficient numbers by young people to change the downward curve. Meanwhile, however, the number of non-consumptive wildlife watchers is skyrocketing and represents an economic powerhouse in ascendence. This will also be explored in series parts ahead but the point is that places with wildlife are things Americans want to have and places where they want to go.    
Public lands and waters benefit society in other profound ways. Besides being good for business, public lands and having ample, ready access to nature is good prescriptive medicine for people. Richard Louv in his groundbreaking book, "Last Child in the Woods," wrote about nature-deficit disorder in children and how modern generations of us, most of whom dwell in urban areas, were becoming disconnected from the sensual stimuli that exists potently in the non-human-dominated world. In fact, studies indicate that people who spend more time engaging nature in peaceful, quiet, slow ways are more empathetic, altruistic and generous. 
Both the Louv and Williams books are highly recommended. Williams started her writing career with High Country News in the West. The Nature Fix is a masterful prescription for how each of us can use Nature to calm down, engage in mindfulness, escape the rat race and heal trauma. What Williams really focuses on, however, is the one-way relationship we humans have with the outdoors. It's about what we receive from nature rather than exploring in detail the far more complicated reciprocal relationship that involves us giving back or limiting what we can do to minimize our individual and larger societal negative impacts on nature. 
Maybe the best part of outdoor recreation is that it forges memories that last across generations, imbuing positive feelings that hold families and friendships together. The assertion is that people are more willing to protect what they love. From a human-benefit perspective, it's hard to argue that recreation has any significant downsides. 
The Nature Fix has been prominently promoted by conservation organizations,  the outdoor recreation industry and business community as providing justification for expanding recreational opportunities in cities and suburbs and expanding access on public lands across the West. Often, representatives of those groups have portrayed Williams' message as a license to run wild, meaning that the more we're out in the bushes, no matter what we're doing, no matter what the setting, the better. Specifically, the more outdoor recreation, the better we feel and if it makes us feel better it must also, therefore, be good for the environment. But is it true? Keep reading after the photos below.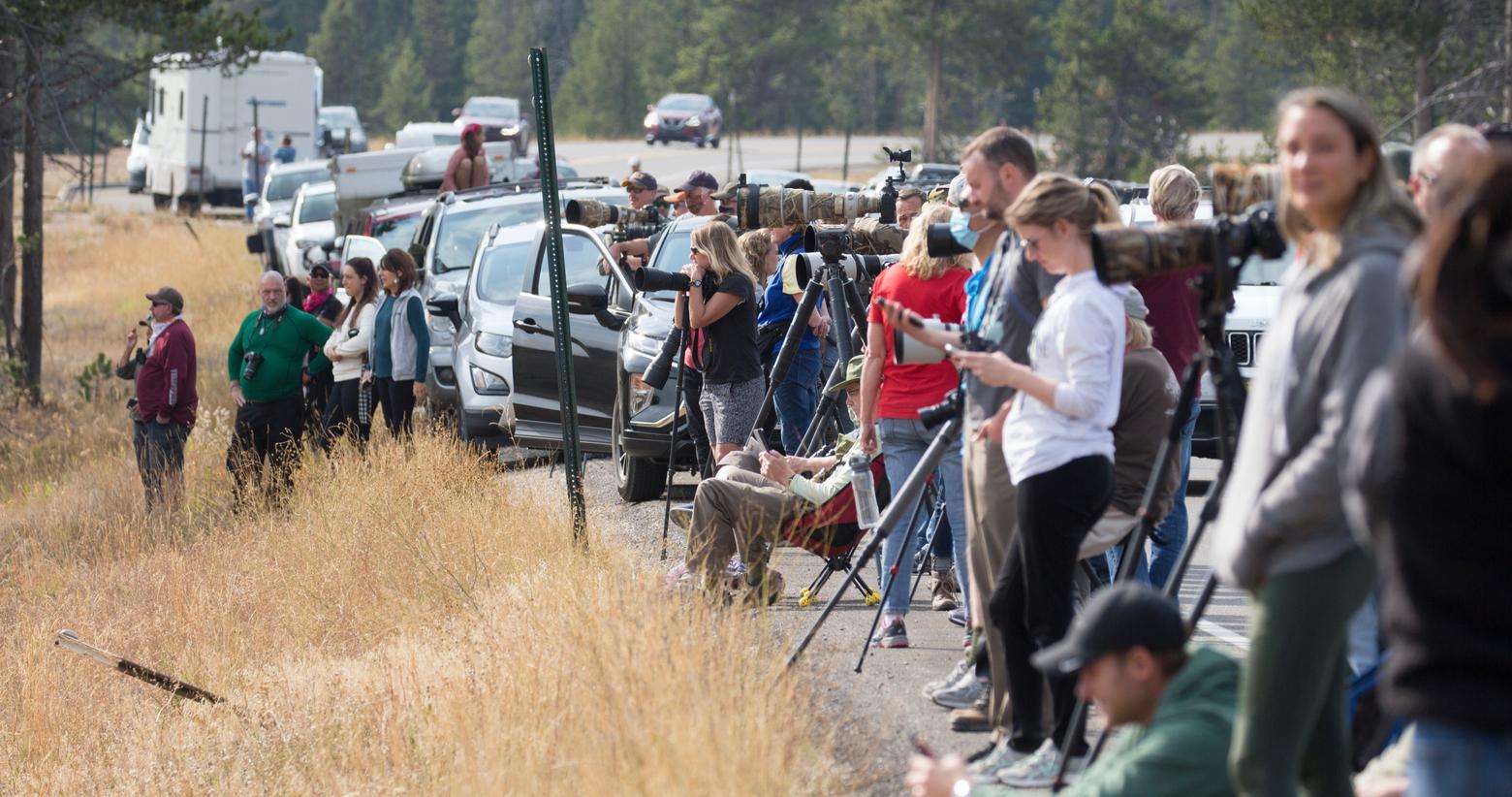 It's true: Yellowstone and Grand Teton national parks are crowded every summer. It's great that they are popular; it shows that people care. But record crowds in both parks are now overwhelming resources along the front country. Here, bear watchers mass along a highway in Grand Teton hoping to catch a glimpse of famous Jackson Hole grizzly 399 and her cubs in September 2020. Photo Shuttersock 1827517454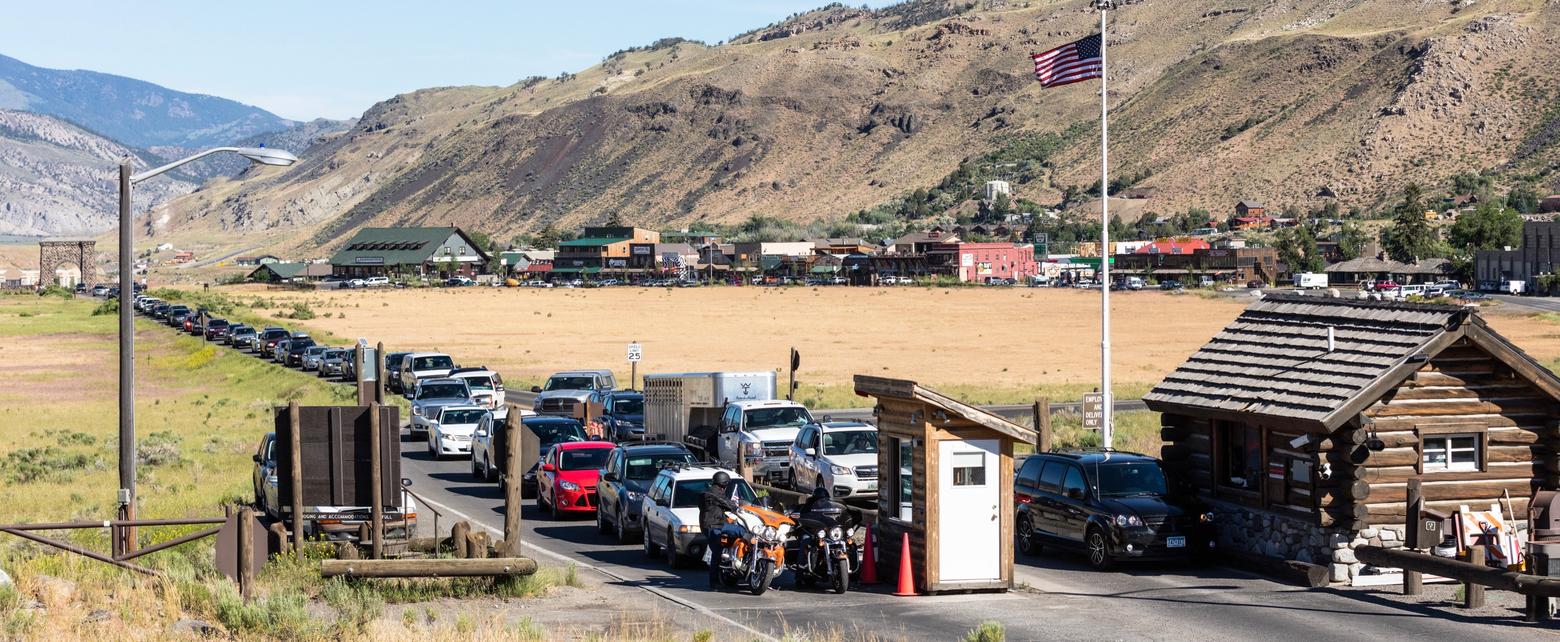 Crushing visitation has also fueled an expanding human footprint outside the park, such as in Gardiner, Montana, northern gateway to Yellowstone, pictured here. More development at the edge of Yellowstone further constricts the ability of wildlife to move in and out of the park. And sold-out campgrounds and hotels in the park mean more people are turning to Forest Service campgrounds and that means more recreation pressure. Photo courtesy Jacob W. Frank/NPS

How much human pressure can the Greater Yellowstone Ecosystem take? That is the question. And it's timely as politicians, the outdoor recreation industry and some conversation groups are pushing for bills in Congress that would result in a huge expansion of infrastructure to provide more access and put more users into public lands. Photo of tourists too close to a Yellowstone bull elk courtesy Neal Herbert/NPS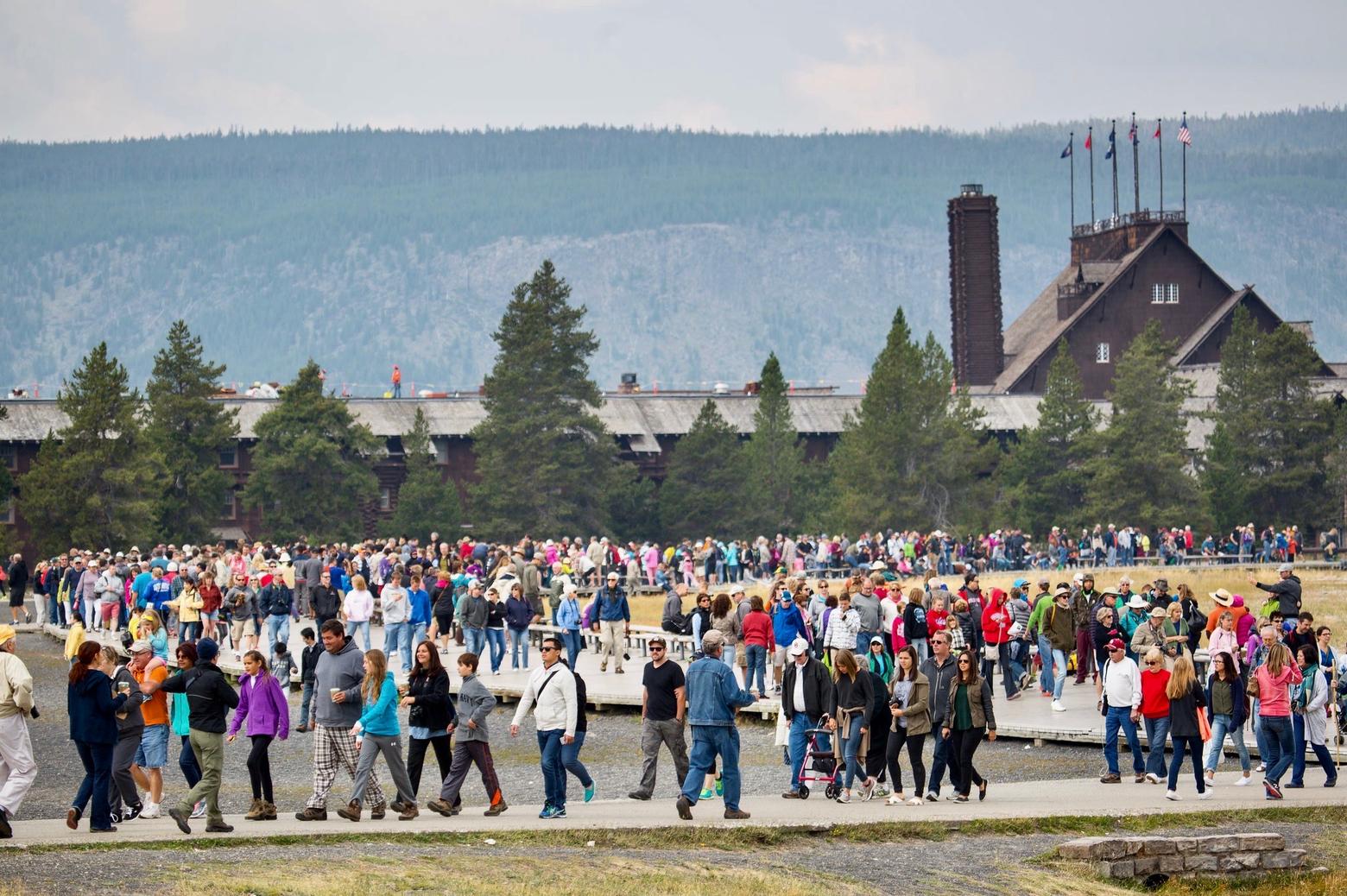 Crowds gather or leave following an eruption of Old Faithful Geyser. In Yellowstone in 2021, the park notched a record 4.86 million visits and that didn't even include international bus tour traffic which has not been present during Covid. The time of intense visitation has expanded well beyond the Memorial Day to Labor Day stretch in both Yellowstone and Jackson Hole. Photo courtesy Jacob W. Frank/NPS

Yellowstone Superintendent Cam Sholly who inherited a visitation problem when he arrived in 2017 says "we are not going to develop our way out of the problem." Photo of traffic at Norris Junction in Yellowstone. Photo courtesy Jacob W. Frank/NPS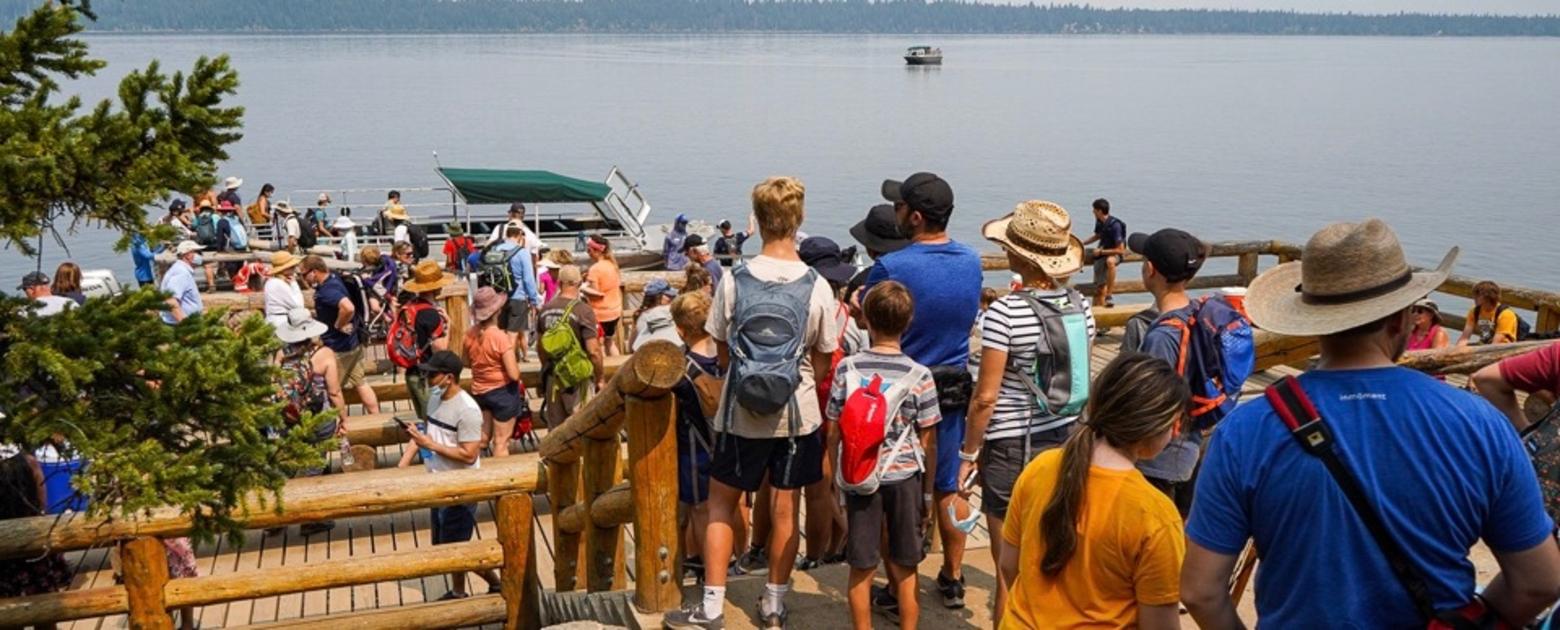 Visitors wait to catch a boat ride across Jenny Lake in Grand Teton National Park. What's not in view is a huge parking lot complex, overflowing in summer, just off the east shore of Jenny. Grand Teton, which recorded a whopping 3.8 million visits in 2021, also has the busiest commercial airport in the state inside its borders. Huge numbers of visitors have also brought an inundation of people to campgrounds and trails on the nearby Bridger-Teton National Forest. What is the answer? Photo courtesy J. Bonney/NPS
The outdoor recreation industry is now so gigantic that many landscape conservationists worry it is too big to be denied when trying to influence politicians and public land managers. And it is now primed to expand and roar like no other time in US history. Are Greater Yellowstone and the public land West ready?
A visible entity that represents a bridge between the recreation and environmental communities is an organization called the Outdoor Alliance. It stands in contrast to a different kind of loose-knit alliance that has long existed, for example, between hunting and fishing organizations like the Rocky Mountain Elk Foundation, Ducks Unlimited, Safari Club International, the National Rifle Association, individual members who are executives in the resource extraction industry and companies like Bass Pro Shops, gun and ammo manufacturers, and makers of off-road vehicles.  
The Outdoor Alliance says "our mission is to unite the voices of outdoor enthusiasts to protect the human-powered outdoor recreation experience and conserve America's public lands." Michael V. Finley, recently retired chairman of the Oregon Fish and Wildlife Commission, is a lifelong outdoorsperson who grew up in his state hunting, fishing and hiking—activities that now as a septuagenarian he still enjoys. 
Finley had a distinguished career with the National Park Service. Prestigiously, he was superintendent [the top manager] at Yellowstone, Yosemite and Everglades national parks. At Yosemite, he pushed for public transportation to address overcrowding in picturesque Yosemite Valley; in Everglades, he worked with President George H. W. Bush in pushing back against the powerful sugar cane industry that brought pollution and hydrological destruction to the Everglades ecosystem; and, in Yellowstone, he presided when his friend, Interior Secretary Bruce Babbitt, ordered the reintroduction of wolves and helped him, along with President Bill Clinton, stop the controversial New World Mine from being built on Yellowstone's doorstep. 
Finley, who is a Mountain Journal board member, has fished on rivers crowded with anglers, hunted in woods where large numbers of hunters with ready access have clashed and he has watched corners of the West become overrun especially in the social media age. He says the Greater Yellowstone Ecosystem urgent needs special treatment and worries that blind promotion of outdoor recreation, as its been done in other regions, is a bad idea and has more severe consequences given what is at stake.
After his career with the Park Service ended, and he was president of the Turner Foundation, Finley recommended that Ted Turner and his grown children trustees provide seed money to help launch the Outdoor Alliance. He said the impetus wasn't merely that the outdoor industry possessed economic standing, but that companies which capitalize on the environment ought to be willing to safeguard it. "It's part of their ethical and moral duty," he says. 
Among the 
Outdoor Alliance's members
 are the Access Fund that supports the interests of 6.8 million climbers nationwide; the International Mountain Biking Association, Winter Wildlands Alliance and the Surfrider Association. Its corporate partners include REI, Patagonia, The North Face, YETI, and others. You can see its  
corporate allies here
.      
The Outdoor Alliance has made a splash in its couple of decades of existence. Its members applauded when organizers of the mega Outdoor Retailer show initially pulled out of Salt Lake City in protest of state politicians moving to weaken environmental laws, oppose creation of national monuments and deny the science of human-caused climate change that is going to decimate the ski industry and create water challenges. 
Does telemark skiing in a backcountry snow bowl where wolverines live result in better understanding of wolverines and respect for their habitat by skiers? Does mountain biking in sensitive grizzly habitat yield a stronger willingness from riders to give bears more secure places to roam or cause them not to build more user-created trails?
World-class climber Peter Metcalf, the founder and former CEO of Black Diamond, sits on the board of the Outdoor Alliance and he prestigiously served as Salt Lake City Branch director of the Federal Reserve Bank of San Francisco. He told me that those who profit from destroying the environment need to be held accountable and the pursuit of bottom line profit should not come at the expense of future generations. 
Like Finley, he, too, believes outdoor recreation industry owes Mother Nature a debt of gratitude. Indeed, the Outdoor Alliance has become known as the green arm of the outdoor recreation industry, standing shoulder to shoulder with companies like Patagonia that called out Zinke and the Trump Administration for their unprecedented attempts to weaken environmental laws and shrink back national monuments. 
Often, press conferences are held and high fives exchanged whenever a new bill passes through Congress that is considered pro-conservation, especially bi-partisan packages so rare in these polemical partisan times. Months after he proposed zeroing out appropriations for the half century old Land and Water Conservation Fund, that enabled federal and state agencies to acquire important private land for parks, wildlife habitat and urban sports fields, President Trump reversed course. 
In 2020, Trump, along with bi-partisan support in Congress, signed into law the Great Outdoors American Act, that restored the Land and Water Conservation Fund's annual appropriation of $900 million annually that decades of earlier Congresses had raided for other things. Essential to note is that the Great America Outdoors Act won in part based on strong support from the outdoor recreation and tourism industries because huge amounts of money are going to be spent expanding and repairing infrastructure to facilitate more recreation visitation. Young recreation activists claimed the bill's passage was one of the most momentous conservation achievements in history, but was it, really?
Billions of dollars are going to be poured into promoting more outdoor recreation on public lands in the years ahead. What does it portend for the Greater Yellowstone Ecosystem?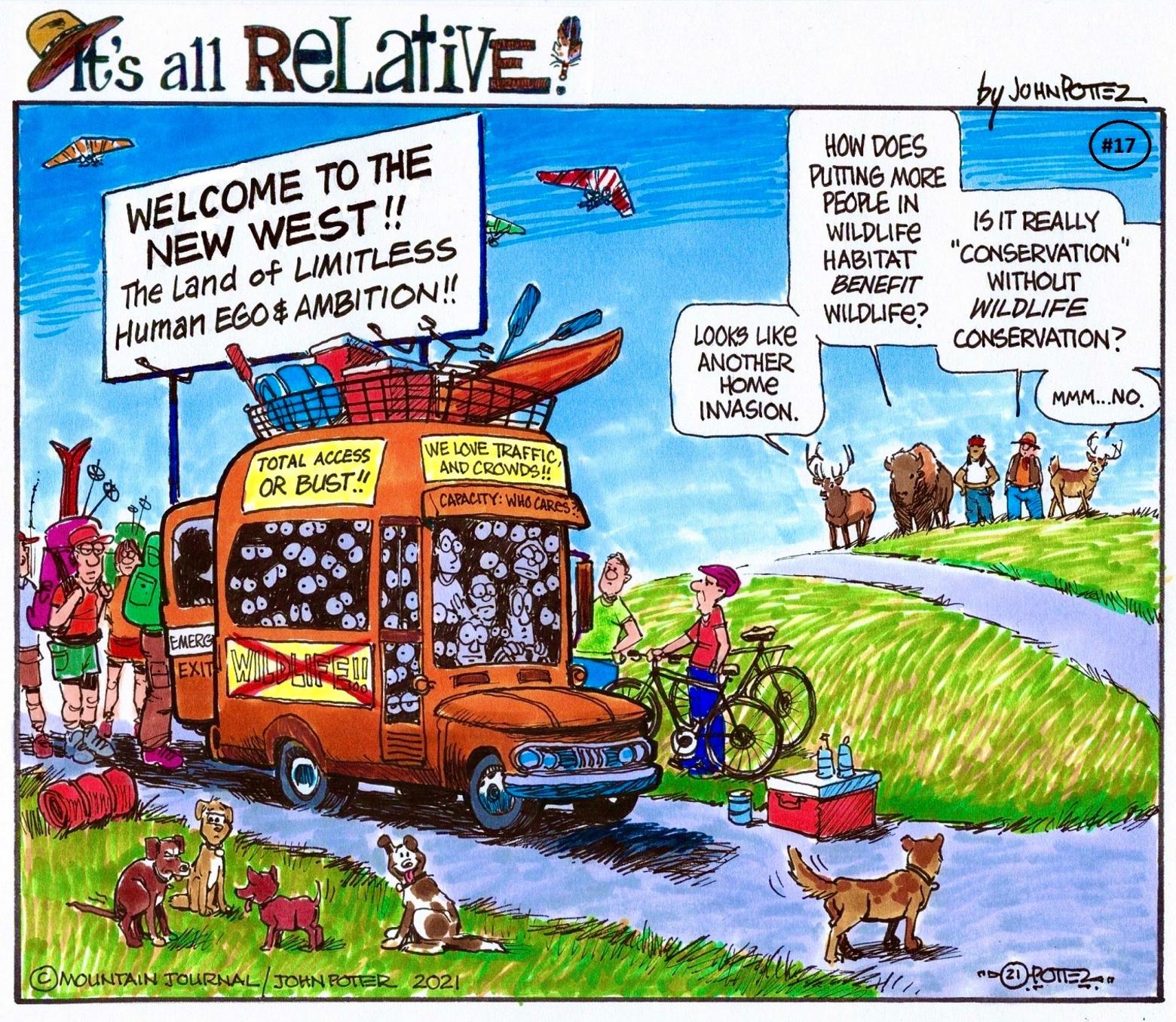 Cartoon by John Potter
Following Trump and in his first year, President Biden, along with bi-partisan support in Congress, brought into law the "Conserving and Restoring America The Beautiful Act." It has helped throttle a feverish, unprecedented land-rush for more recreational access, backed strongly by product manufacturers because they know it's a catalyst for selling more product and bolstering profits. Again, part of it is linked to 30 X 30 that seeks to safeguard 30 percent of healthy public lands that remain.
New legislative priorities, as identified by the Outdoor Industry Association and The Outdoor Alliance are: expanding recreation infrastructure and access; and supporting bills that would eliminate red tape so that public land managers can more quickly approve more recreation infrastructure without getting tied up in environmental analysis. At the same time, ironically, they say they are striving to "protect core conservation laws and reverse regulatory rollbacks." 
Here, they are alluding in large part to the
National Environmental Policy Act
(NEPA), a code considered "the Magna Carta" of American environmental law in that it requires all federal agencies to conduct significant analysis, including preparation of Environmental Impact Statements, on proposed actions, such as resource extraction, that could harm such things as wildlife, air and water quality. NEPA also gives citizens both the right to comment on proposed actions and present scientific evidence to try to persuade land managers to alter their plans or deny activities. And, it enables decisions to be appealed and challenged in court if NEPA compliance is thought to be violated.
Cramer also wrote: "The outdoor community interacts with NEPA in a lot of ways. Rock climbers provide critical feedback to local land managers on things such as climbing management plans, recreation permits and fee structures; backcountry skiers and mountain bikers assist agency officials with travel management plans; and kayakers share insights regarding river management issues such as dam removals. Last year, when 
the BLM announced it would auction off 85,000 acres surrounding Moab, Utah
, including the very popular Slickrock trail, thousands of outdoor enthusiasts spoke out against the proposal—NEPA is what makes these public comment opportunities possible. Over the years, NEPA has given millions of people a voice in decisions about what happens on public land and water."
Wildlife scientists deeply concerned about the impacts of recreation on wildlife have a different take. They say that conservation organizations who have become allies with the industry and promoted access have set the stage for disaster. 
On the one hand, scientists say, members of the outdoor recreation industry have vowed to insure NEPA is upheld and, on the other, when it comes to greenlighting more outdoor recreation infrastructure, they want permit approvals for trails and more access expedited or to allow individual national forest and BLM managers to avoid rigorous review via maneuverings known as categorical exclusions. (Those same managers were given categorical exclusions by the Trump Administration to approve lots of small timber sales so they could skirt NEPA compliance and issuing of oil and gas permits on BLM land).
On the one hand, scientists say, members of the outdoor recreation industry have vowed to insure NEPA is upheld and, on the other, when it comes to greenlighting more outdoor recreation infrastructure, they want permit approvals for trails and more access expedited or to allow individual national forest and BLM managers to avoid rigorous review via maneuverings known as categorical exclusions. 
If readers are interested, they ought to peruse the "
Recreation Not Red Tape Act.
" introduced by US Sen. Ron Wyden (D-Oregon) and US Rep. Blake Moore (R-Utah). If passed, it would direct Forest Service and BLM managers to make recreation a priority use of public land, expand recreation infrastructure, enter into partnerships with corporations and recreation organizations, encourage volunteers to get out on the land to improve and expand trail systems, extend recreation seasons and promote them, and grade the performance of agencies on meeting elevated recreation participation targets. 
During the heated timber wars of the 1980s and 1990s in the Pacific Northwest and Alaska, environmentalists often lambasted politicians and the Forest Service for setting timber harvest targets that were unsustainable and caused destruction, but promoted in the name of job creation. But what are the standards of sustainability when applied to outdoor recreation and it impacts?
The Outdoor Alliance 
issued a statement praising
 the bill, noting how it, together with Biden's 30 X 30 initiative will "prioritize management planning that identifies lands and waters that are appropriate to be conserved and managed 
for outdoor recreation" and it 
"streamlines access for hikers, fishers, hunters, campers, climbers, paddlers, and other outdoor recreation users."
On top of that, US Sen. Martin Heinrich (D-New Mexico) and US Sen. Shelley Moore Capito (R-West Virginia) have introduced the "
Simplifying Outdoor Access for Recreation Act 
[SOAR]." Wrote Sen. Moore: "The SOAR Act reduces bureaucratic red tape and makes commonsense changes to current permitting requirements that sometimes discourages outfitters from utilizing our public lands and in turn, constrains economic development in these areas. These changes to federal public lands regulations would not only help support outdoor recreation, but also benefit the local communities and economies they support."
After President Biden came into office, he restored fuller protection for Bears Ears in southern Utah. It was a national monument created by President Obama that had been dramatically reduced in size by President Trump, in deference to resource extraction interests.
In the wake of Biden's action, Cramer of the Outdoor Alliance wrote: "Outdoor Alliance is thrilled to join President Biden as he signs the proclamation to protect Bears Ears and Grand Staircase-Escalante. Along with being profoundly important to Indigenous communities since time immemorial, these landscapes are known for their world-class climbing, as well as paddling, hiking, mountain biking, and camping. The President's actions today honor the voices of Indigenous communities as well as Americans across the country who want to see Bears Ears and Grand Staircase-Escalante permanently protected. And they contribute toward broader conservation goals, including those set out in the Conserving and Restoring America the Beautiful plan." 
How does recreation jibe with protection of sacred sites? This is an area of tremendous debate. Bears Ears is venerated by the Navajo, among others, as an active holy place where people have gone for ceremony over millennia. It is rich in archaeological evidence, and, in the case of so many instances over the years, expanded recreation into locations that are considered important for indigenous spiritual retreat and holding archeological touchstones, more human recreation incursion is not always good for the protecting the intrinsic values. At Devil's Tower in Wyoming, indigenous activists have clashed with climbers, and, in St. Paul, Minnesota, Indian Mounds State Park (which has been an indigenous burial grounds) were managed as an outdoor recreation area.
Built into it were tennis courts, a ball field, paved recreation trails, playground, and barbecue grills. It isn't the only ancient cemetery that was converted into a recreation play area. A new sign put up at the "park" in St. Paul reads.  "This is a burial place, and our ancestors are still here. You are in a cemetery. It is a sacred burial ground that has been here for thousands of years."
With regard to the Conserving and Restoring America The Beautiful Act, and the Recreation Not Red Tape Act and 30 X 30 and the Simplifying Outdoor Access for Recreation Act, an issue again that is almost never mentioned is what's being conserved? Downsides or unintended consequences on wildlife are evaded, except when issues of crowding are raised the answer is, echoing of Zinke, to build bigger parking lots, more trails, more boat ramps, and expand a given place's capacity to accommodate more people. 
° ° ° °
In recent years, conservation and recreation groups have become tenacious advocates for increasing outdoor recreation capacity. And they've praised the opening of Offices of Outdoor Recreation in 13 states, including Montana, Wyoming, Utah and most states in the West. In 2016, Montana Gov. Steve Bullock, a Democrat, created the Montana Office of Outdoor Recreation and Rachel VandeVoort was hired to head it up.
Earlier in her career VandeVoort, a native of Whitefish, worked as a regional sales manager in the ski industry, marketing director for a river raft company, as a representative for Kalispell, Montana-based firearms maker Kimber, and she called herself an enthusiastic booster of outdoor recreation in all its forms.  She is pictured along with Donald Trump Jr.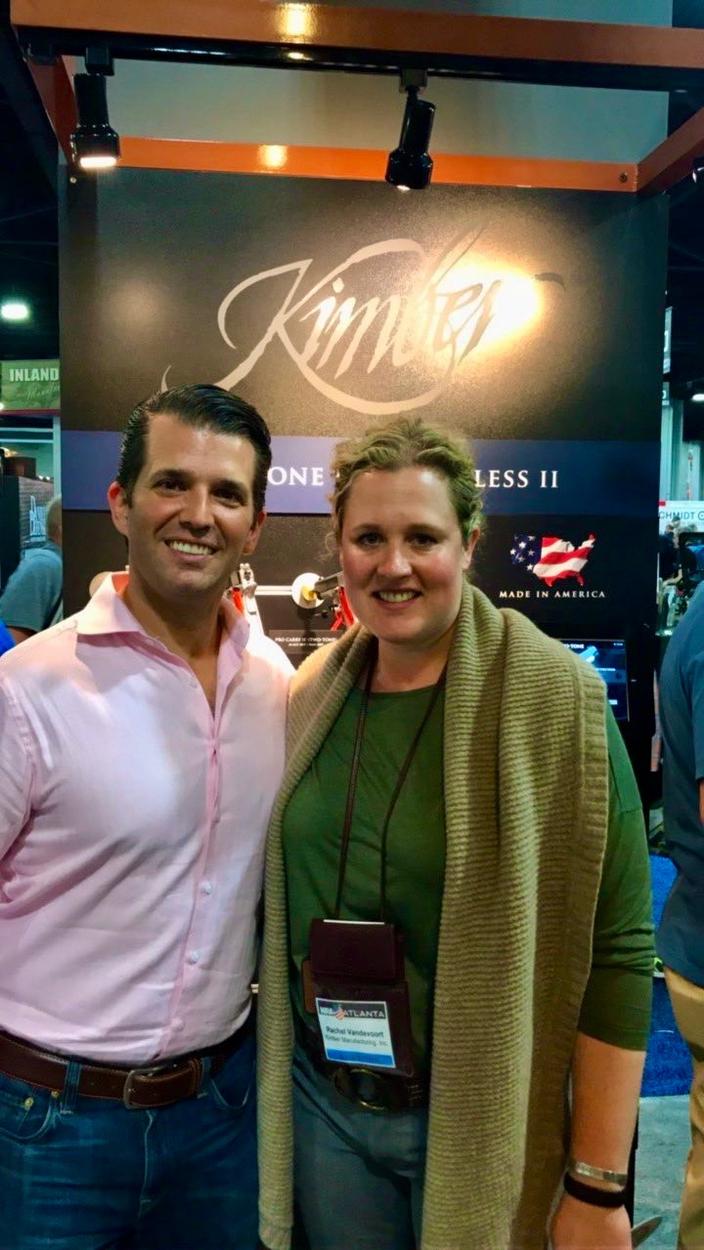 The first director of Montana's Office of Outdoor Recreation Rachel VandeVoort. Previously, she was a representative for the Kalispell, Montana-based gun maker Kimber. She is pictured here with Donald Trump Jr. Photo screenshot from Facebook
Almost immediately upon her hiring, the Montana Wilderness Association sent out a press release titled "made for the job" along with this note of congratulations. "We have been advocating for this office for more than four years now and applaud the governor's choice to lead the office. As someone who has spent nearly her entire career in the outdoor industry, Rachel comes with the kind of first-hand knowledge and background this position demands. Indeed her resume reads as though she were made for the job."
VandeVoort was tireless in making dozens of glowing presentations about the economic contributions of outdoor recreation. She appeared, for example, at a 2018 conference hosted by the Greater Yellowstone Coalition on outdoor recreation at Montana State University in Bozeman. 
Marne Hayes, a resident of Big Sky who is director of Business for Montana's Outdoors wrote  recently in support of maintaining the Montana Office of Outdoor Recreation that outdoor recreation accounts for 5.4 percent of employment in Montana, over five percent of Montana's Gross Domestic Product and provides $2.2 billion in wages and salaries. "Outdoor recreation brings in more to the state than pharmaceuticals and motor vehicles," she wrote and noted that recreation's Gross Domestic Product percentage is higher than in any other state.
"The uncertainty of a pandemic has shown us in no uncertain terms that our outdoor recreation economy is nimble and resilient, and a steady contributor to economic recovery in a variety of forms," Hayes wrote. "With 33.8 million acres of public lands, nearly 170,000 miles of rivers, more than 3,200 lakes and reservoirs, and endless miles of forested trails, Montana's outdoor assets provide a source for recreation, sustain businesses, and improve health, whether community, business, mental, or physical."
That characterization gives an impression, not unlike the 19th century promotion of Manifest Destiny, of a boundless landscape. Out on the treeless prairie it holds up where cattle outnumber people by a high ratio. It's a different reality in the mountainous western third of the state. Most of Montana's 1.1 million residents—and the vast percentage of second home owners and millions of tourists— are concentrated in mountain valleys where the state's iconic wildlife live, too.  Later, we'll also delve into this.
I've followed both VandeVoort's and Hayes' advocacy of outdoor recreation. It's hard to imagine people more dedicated to the task. Big Sky, where Hayes lives, is a resort community where there is little semblance of balance between prioritizing recreational opportunity on the one hand and protection of wildlife on the other. Some have called Big Sky "Montana's version of Moab."
° ° ° °
The tag applies in an even more pronounced way to Jackson Hole. In 2014, the Jackson Hole Travel & Tourism Board, which exists to promote the Jackson Hole tourism economy, helped hatch a gathering that, for a few years, became an annual event there called SHIFT.  The acronym stands for "Shaping How We Invest for Tomorrow." Part of the motive was to expand the shoulder season tourist economy. Another was to promote the notion that recreation is a fulcrum for conservation. At the first gathering which I attended, Moab was touted as a model.
A year later, SHIFT released a document that it called Principles for Advancing Outdoor Recreation and Conservation and proclaimed it as a national standard. Among those who contributed to drafting of the principles were representatives of the Greater Yellowstone Coalition, The Wilderness Society, Defenders of Wildlife, Jackson Hole Conservation Alliance, National Parks Conservation Association, Theodore Roosevelt Conservation Partnership,  outdoor recreation groups such as the International Mountain Biking Association, guides, federal land managers, scientists, and others.
Besides touting the economic and benefits to human health, the document stated: "Outdoor recreation helps people understand the importance of healthy, intact ecosystems, which builds support for their protection and stewardship. Conservation protects the natural resources and wild places upon which outdoor recreation depends. Responsible recreation – which fosters and is informed by a conservation ethic while promoting diverse, inclusive and next-generation engagement – is essential for future protection and use of our public lands."
The document was panned by several veteran wildlife scientists in the Greater Yellowstone region, saying it was an attempt to greenwash the impacts of outdoor recreation under the guise that putting more people into the backcountry would result in more protection
Bill Hedden and others would argue that it most definitely is not a principle that applies to Moab. Does recreation really build more public support for the protection and stewardship of wildlife habitat?  How many outdoor recreation groups are promoting wildlife stewardship if it means that the need to protect habitat may require limiting recreation use? Why are there so many groups who say their support for protecting public lands is contingent upon them being able to use it?  
Does telemark skiing in a backcountry snow bowl where wolverines live result in better understanding of wolverines and respect for their habitat by skiers? Does mountain biking in sensitive grizzly habitat yield a stronger willingness from riders to give bears more secure places to roam or cause them not to build more user-created trails? When packrafters pushed to overturn Yellowstone's historic ban on river boating that existed, in part, to protect wildlife, were those activists driven by a concern for preserving the vitality of riparian corridors in the park as known havens for Yellowstone wildlife?
"I have zero, zero, zero, zero, zero, zero tolerance for anybody using the term consumptive vs. non-consumptive. That is a huge bugaboo of mine and it is only creating division because every form of recreation, and recreation itself, is a renewable, sustainable use of our resources." —Rachel VandeVoort, first director of the Montana Office of Outdoor Recreation
When such questions were presented to organizers of SHIFT, the following addendums were added to the principles as concessions:  "When unmanaged or poorly managed, outdoor recreation can adversely affect our public lands, as well as the quality of experiences and the numerous benefits they provide," it read. "The rapid growth of recreational use on public land, and the evolving nature of this use, often raises concerns that the quality of the lands and waters on which this recreation depends is being degraded. It also stresses the integral relationship between conservation and recreation."
And, "outdoor users are responsible for avoiding and minimizing the impacts of their use across the places they recreate and the larger landscape. All recreation has impact. Ethical outdoor behavior that demonstrates respect for lands, water, and wildlife and that respects the value of connecting all people to the outdoors is critical and must be developed in all users and in future generations."
And, "physical, biological and social science must inform the management of recreation. Management decisions should be grounded in the best available scientific information to ensure the protection of wild areas and the sustainability of resources while maintaining and enhancing the quality of outdoor recreation experiences."
The so-called SHIFT Principles for Advancing Outdoor Recreation and Conservation have relevance today as many questions are being raised about whether recreation, as promoted by federal land managers and some conservation organizations, is really based upon heeding the best available science pertaining to impacts and whether recreation users really are more knowledgeable about wildlife conservation and the natural history of species. 
Just before the Covid pandemic arrived, I had a brief phone conversation with Ms. VandeVoort. While state offices of outdoor recreation were created to be cheerleaders for promoting expanded infrastructure, almost never are impacts on wildlands addressed.
VandeVoort was friendly and enthusiastic. I mentioned that a number of prominent conservation scientists told me so-called non-consumptive outdoor recreation can have significant negative consequences for wildlife in areas with intense levels of use. The wildlife experts said that the kind of outdoor recreation pressure that happens around Moab, the Wasatch Front astride Salt Lake City, the Front Range of the Colorado Rockies and other resort towns could have disastrous impacts for species in Greater Yellowstone like grizzly bears, wolverines, elk, mule deer and others.
"I did not know that," VandeVoort told me. "I will look into it and get back to you." We did not reconnect.  I mention this not as an indictment of VandeVoort. In some cases, concerns about wildlife are just not on the radar of recreation promotors and in other cases, it seems, the topic of wildlife impacts is deliberately avoided. Some areas of the West have been so stripped of their former native wildlife, or populations so reduced, that the needs of wildlife never enter into the consciousness of outdoor recreationists. They see public lands as an outdoor gym or a pretty backdrop. 
In an interview with Ed Roberson, host of
the podcast Mountain and Prairie
,
 VandeVoort said, "The Outdoor Industry Association did a great articulation on all that fits in that bucket of outdoor recreation. It is huge, it is vast, it is broad, it is motorized, it is non-motorized," she said. "I have zero, zero, zero, zero, zero, zero tolerance for anybody using the term consumptive vs. non-consumptive. That is a huge bugaboo of mine and it is only creating division because every form of recreation, and recreation itself, is a renewable, sustainable use of our resources."
VandeVoort's characterization is a common one that echoes throughout the messaging of the outdoor recreation industry and in the way politicians, businesspeople and some conservation organizations promote recreation. It is not, however, a perspective shared by scientists who study the impacts of recreation on wildlife and have compiled what may be, to some, a surprisingly huge body of evidence. 
For years, outdoor recreationists have claimed there is an absence of evidence about the impacts of outdoor recreation on wildlife. But it turns out that's not the case. 
Next time: What the science says about the impacts of outdoor recreation